Applications for UNLOCK 2022 are now open!
The third edition of Wikimedia's Accelerator UNLOCK is all about collaboration and cross-regional exchange. Wikimedia Deutschland has teamed up with Wikimedia Serbia and Impact Hub Belgrade to jointly design and host the program in 2022: UNLOCK Germany x Western Balkans! We are calling on change makers, activists, technologists and creative minds from the German-speaking region and the Western Balkans.
Applications are open until May 29th, 2022!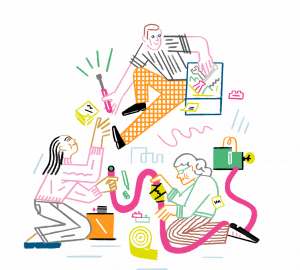 The challenge: 
Access to knowledge is a matter of equity
Our vision is a world in which every single human being can freely share in the sum of all knowledge. This means that information needs to be available as a whole and in a convenient and modifiable form to everyone, free of charge.
The digital transformation already positively influences the way we access, contribute to and share data, information and resources in the digital space. However, existing structures of power and privilege still exclude people from much of the world's knowledge, such as biases, under-representations and inequities. The result is a widening knowledge gap.
This is our call for technical and non-technical solutions that break down social and technical barriers preventing people from both accessing and contributing to free knowledge.
You are working on technologies and tools that make the access and contribution to knowledge easier, more inclusive and equitable? We want to hear about new models of governance or concepts for intermixing datasets; integrating unconventional formats of knowledge into existing networks; or creating interlinked knowledge architectures located somewhere between AI, blockchains and P2P wikis.
You are working on a project that organizes information more equitably and offers a sustainable business model for the production, maintenance and access to knowledge? Tell us about your concept for overall fairer conditions, greater incentives and fairer compensation for the contribution to free knowledge; your idea for a more inclusive representation of the diverse knowledge of our world; or for building creative commons standards as real alternatives to existing closed-source business models.
Apply now to turn your idea into a working prototype. Because when we close the knowledge gap, we open up the potential to empower the people who create, share and use the knowledge of the world.
What's in it for you? 
Our program is designed to best support the development of your project idea into a working prototype. 
Here is what we are offering to help you get there:
Timeline
UNLOCK is designed to work completely virtually and is structured around core elements: Kick-off, workshops, individually scheduled coaching sessions as well as regular check-ins with the organizing team and the UNLOCK demo day. These are mandatory for all participants. In between these your team decides how much time to dedicate to your project.
Who is the program for?
This sounds like the right program for you? Then be sure to check whether you meet our participation requirements below and apply now! Applications are open until May 29th!